WIE(VR) - Women in Engineering (Vancouver Region)

"Networking across workplaces, engineering fields and universities."
Speaker Night - Getting to the top
- an event for engineering women of all levels in the profession: students, professionals, looking for work and foreign trained engineers!
WIE(VR), in collaboration with DAWEG and SCWIST, presents Catherine Roome, P. Eng., Chief Operating Officer BC Safety Authority.
Hear the career success story of Catherine Roome and how she became COO of the BC Safety Authority and was recognized by Business in Vancouver as an Influential Woman in Business.
Speaker: Catherine Roome, P. Eng
Date: Thursday May 15th, 2008
Time: 6:00pm - 9:00pm
Location: YWCA, Welch room 1, 535 Hornby Street, Vancouver Map
RSVP: engineeringwomen at gmail.com
Cost: Free, but space is limited
Beverages, sandwiches and snacks will be provided. And bring a business card to be entered into a draw for door prizes. Blank cards will be provided for those who don't have any.
Agenda
6:30pm Doors open
6:30pm - 7:00pm Refreshments and networking
7:00pm - 8:00pm Catherine Roome
8:00pm - 8:15pm Q&A
8:15pm - 9:00pm Door prizes and wrap-up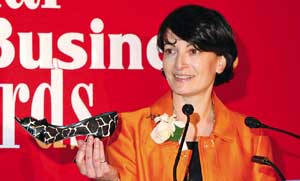 Catherine Roome started her career like many young woman at the University of Victoria. There she earned her engineering degree and worked on co-op at the Neil Squire Society where she adapted technology so that wheelchair-bound people could blow on tubes to open computer applications. She joined BC Hydro in 1991 as a Project Engineer and was there for 15 years. In 2005 she joined the BC Safety Authority in the role of Vice President of Engineering. Now she is the Chief Operating Officer and in February of 2008 she received the Influential Women in Business Award.
- Photography credit: Dominic Schaefer
For additional information, please visit the links below
Influential Women in Business Awards
Business in Vancouver Article about Catherine Roome
---
Contact email: engineeringwomen at gmail.com
WIE(VR). Last updated May 25th, 2008.