WIE(VR) - Women in Engineering (Vancouver Region)

"Networking across workplaces, engineering fields and universities."
Engineer to CEO
- an event for engineering women of all levels in the profession: students, professionals, looking for work and foreign trained engineers!
Come and listen to Dr. Amiee Chan talk about her career path from engineer to CEO.

Amiee Chan is one of few women CEOs in the tech industry. Not only that, she brought back Norsat International from the edge of brankruptcy. See her success story on Business Online.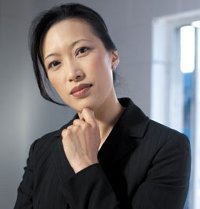 Light snacks and refreshments will be served. Networking after the talk.
Date: Thursday, May 28th, 2009
Time: 6:30-9:30pm, Doors open at 6:30pm, talk begins at 7pm
Place: Little Nest Cafe, 1716 Charles St, Vancouver, BC map
Cost: $8 in advance, $10 at the door
Online registration: click here
President and CEO Dr. Amiee Chan has over 15 years of experience in executive management and research development in the satellite industry. An accomplished engineer, she has been published over a dozen times, currently holds 3 US patents in satellite technologies and has been involved in high level research teams such as the NASA ACTS Terminal Program. Her vision and expertise in satellite communications have driven product line expansion, operational efficiencies and a corporate restructuring as part of her planned turnaround at Norsat International Inc. Amiee Chanís exceptional track record of business improvements is based on her ability to have a complete understanding of a business.

As the Director of Research and Development at Norsat International Dr. Chan produced several highly successful product lines that continue to be high revenue generators for the company. Prior to her promotion to CEO, Dr. Chan served as Vice President of Operations where the company experienced significant improvements to R&D, Production, IT, Customer Service, Supply Chain and Logistics, Sales and Quality Control. While under her management Dr. Chan turned around Microwave revenues from a 10% annual decline to a 25% growth over two years by defining a product leadership position for a commodity industry.Dr. Chan received her Executive MBA from Simon Fraser University where she majored in Strategy & New Ventures. She also holds an Electrical Engineering Ph. D. in Satellite Communications. She is an active member of the Vancouver Board of Trade and is spearheading the Western Canada branch of WIDS - Woman in Defense and Security. Always dynamic within her community, Dr. Chan is involved with numerous mentoring organizations such as Wired Woman of Vancouver. She currently resides in Vancouver with her husband and two children.
---
Contact email:

WIE(VR). Last updated May 25th, 2009.